Astha Tamang Maskey Ma Ek Sapana Album Launch Event Videos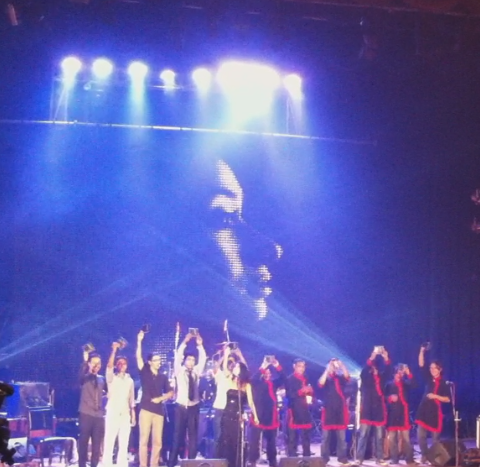 Astha Tamang Maskey 's new Album Ma Ek Sapana officially launched from event featuring Kutumba and Jindabaad yesterday 24th, June at Naachghar , Jamal , Kathmandu. The event was named Logitech Presents Kutumba & Astha Tamang Maskey in Collaboration.Album was inaugurated jointly by Kutumba and Jindabaad Members. Ma Ek Sapana is her second full length album produced by herself and Rohit Shakya (Jindabaad Front man) . First Track "Khula Aakash" music video is already premiered written by her mother "Susan Maskey" &  edited and directed by Rohit Shakya.
The Event kicked off by Kutumba with their amazing numbers. Meanwhile Kutumba featured Indira Lachimasui (Dhimme player from Bhaktapur ) for her solo. After Kutumba's Performance Astha Tamang Maskey with her band "Jindabaad" took the stage with song Bhulisake,new song from Ma Ek Sapana. She then sang "Harek Saas Sita" and Khali  from new album simultaneously.  From her old album "Sabai thikai Huncha" she performed Jhuto Satya and Bhana .
After the perfomance, Officially she along with Kutumba and Jindabaad inagurated her album "Ma Ek Sapana".
Next , there was Kutumba and Astha on the stage. With Kutumba She did two songs "Muskuraye " and Sabai Thikai Huncha . The most beautiful  track from her new album "Khula Aakash" perfomed with Rohit Shakya and Kutumba's two members(Flute and Dhime). Finally Astha Tamang Maskey ,Kutumba and Jindabaad members were on stage for final song " Gotta be Love" and show wrapped.
Go through Below Live videos.  Spread and Share .
Gotta Be Love
Bhulisake
Kutumba
Kutumba
Bhana
Jhuto Satya
Khali
Muskuraye
Sabai Thikai Huncha
Khula Aakash
Harek Saas sita
Also Read,
Jindabaad Plastic Hear Ep Download