Gig One Earth 2010 Review
The gig one earth 2010 which was held on last saturday in Bhrikuti Mandap FunPark.The Performing Bands were: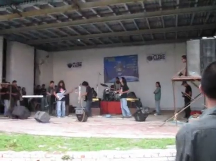 Jindabaad !!!
Rage Hybrid and
Ad Hoc
The Videos are posted here Below.
Shades of You – JIndabaad Rewind -Jindabaad
Niskharsha – Stairs Of Cirith Khojdai chu Paila… – Time
The link for the other videos are as follows.
Aama by Stairs of Cirith Gig One Earth 2010
Electronic by Jindabaad !!!Gig One Earth 2010
Jamming Up Jindabaad !!!Gig One Earth 2010
Jindabaad !!!_ Gig One Earth 2010
Jindabaad Gig One Earth 2010
Slow Song By Jindabaad !!! Gig One Earth 2010
Rage Hybrid Original _Gig One Earth 2010
Rage Hybrid Original Gig One Earth 2010
Stairs of Cirith Gig One Earth 2010
Un named Instrumental by Stairs of Cirith Gig One Earth 2010
Walk by Adhoc_Gig One Earth 2010
Laid To Rest_Ad Hoc_Gig One Earth 2010